Introduction
Underwear has been the fastest-growing category of men's wear for years. According to data provided by Euromonitor, the global underwear market was worth just over $110 billion in 2014. And what product would be better suitable than underwear to show near naked models, thus attracting a gay audience?
Founded in 1992 by Greg Sovell, a gay man, the 2(x)ist (pronounce: To Exist) brand never hesitated to engage in gay marketing - even after the takeover by the mainstream Morét Group in 1995.
A specialist website reports: "2(x)ist underwear has stamped its mark on modern day designs and styles. They bring some of the most iconic undies available today, sophisticated yet keeping with their honest casual everyday wear and usability. They are the forerunner in innovative materials and style cuts."
How it began
From the start, this brand was directed at what was perceived to be a "gay market". A campaign from 1994 used straight model Tracy James (who had previously worked for 16 different underwear brands): his looks were believed to attract a homosexual audience.
2(x)ist became an underwear label famous for plastering aggressive images of hyper-ripped, nearly naked men on bus shelters and phone kiosks just about everywhere. As 2(x)ist themselves said: "the cut is to accentuate the male body and moving a function item of every man's wardrobe to a stylish sexy and fun item to enjoy." Calvin Klein himself wore 2(x)ist underwear, which indicated that the brand reached a level of awareness in fashion that many others would kill for.
Branching out
In 2001 they branched out into making socks, and late 2001 they released their first sleepwear, followed by swimwear, sports apparel and watches.
But even when selling socks (no matter how 'ordinary' looking, or maybe just because of that) the brand still showed sexy models.
This was also the time that the company wanted to widen their customer base by selling their products to heterosexual males. They butched up their undies act by choosing a new spokesperson from the world of football, Jason Sehorn (cornerback of the New York Giants) for a hefty $1 million. The photos used were less raunchy, instead showing a tastefully relaxing jock - with the thought: "every guy wants to be him, every girl wants to be with him". When asked about Sehorn's particular appeal to gay men, 2(x)ist answered: "so be it". Through sponsorship of Queer Eye For The Straight Guy, viewers were repeatedly advised that this underwear could easily be considered both heterosexual and gay. In fact, this whole set-up helped to promote metrosexuality.
New York success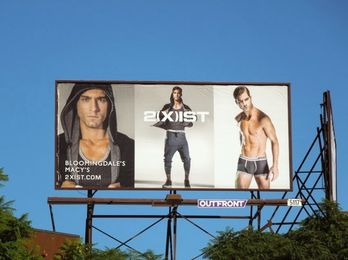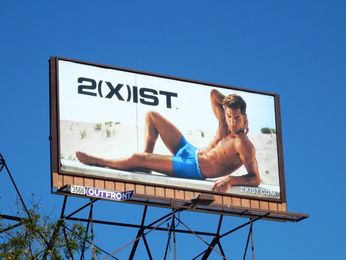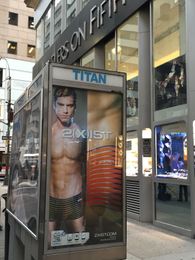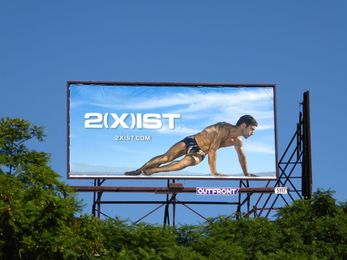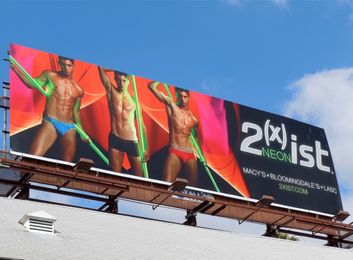 In fall 2002 2(x)ist stole the lime light from Calvin Klein by popping up everywhere in a blanket advertising campaign across bus shelters and magazines. New York was covered by sexy images of the new force in men's underwear. Sales went through the roof and 2(x)ist became a major player not only in men's underwear, but in fashion in general.
Just being an underwear company meant it was specialist and could push the boundaries in what would seem a new market. Targeting the gay market was what made it grow through the 90's, selected boutique stores around the nation carried the brand finding there was thrust for fashionable underwear, the gay male market was the obvious choice.
Some of the famous people that were unwittingly pushing the brand were JT, Vin Diesel and famed Australian actor the late Heath Ledger - and yes, Calvin Klein. The company: "The aim is to promote the 2(x)ist brand along the lines of sexy sophisticated underwear and not just for a demographic market such as Gay, Lesbian or straight."