Introduction
United Airlines is the world's third-largest airline, after American Airlines and Delta. United operates a large domestic and international route network, with an extensive presence in the Asia-Pacific region. United is a founding member of the Star Alliance, the world's largest airline alliance with a total of 28 member airlines. The company employs over 86,000 people while maintaining its headquarters in Chicago.
The beginnning of the rainbow...
In the 1990's United decided to target gay consumers after reviewing Gay Times research which revealed that
- gay customers are predominantly ABC1 social classes (77%)
- they have a high disposable income
- travel is particularly popular, with 79% taking two or more holidays a year, and 43% making their own arrangements. Key destinations were New York, San Francisco, Sydney and London (all key markets for United).
... and inconsistencies
United Airlines was inconsistent though: they launched into the U.S. gay market in 1999, when it simultaneously challenged a San Francisco law that requires corporations to offer domestic partnership benefits to employees. The importance of coordinating interest in the gay market, along with treatment of gay employees and larger mainstream moves by the company, cannot be underestimated, a lesson quickly learned by United. They were subject to quite some criticism and changed their ways.
Their website now says: "We recognize that our employees have been shaped by a variety of backgrounds, experiences, cultures and values. To affirm our commitment we actively host events, festivals and celebrations across our network to link awareness with personal and professional development, employee engagement, and knowledge and understanding of the various dimensions of diversity."
EQUAL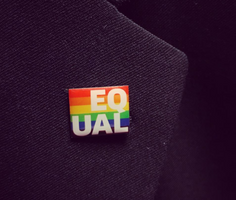 To help advance their goals for diversity and inclusion, United supports employee-run business resource groups, such as the LGBTA platform "EQUAL", which has more than a thousand members, multiple chapters, and employees from every labor group, division and hub airport.
There is an Executive Diversity Council, consisting of officers and senior leaders from various groups within the company, who are committed to acting as champions of diversity and inclusion. Human Resources provides policies and training to support diversity and become an inclusive organization. A supplier diversity program recognizes the profound impact that such an initiative can have on the customers and communities.
They organize extensive programming for several diversity celebrations, among which Lesbian, Gay, Bisexual and Transgender Pride Month (June), and have a partnership with the International Gay & Lesbian Travel Association, Reaching OUT MBA, Equality Illinois, the National Gay & Lesbian Chamber of Commerce, Broadway Cares/Equity Fights AIDS in New York City, Gay & Lesbian Victory Fund in Washington, and Teen Living Programs in Chicago. In October, they show their support for LGBT youth and take a stand against bullying by going purple for Spirit Day, a campaign hosted by GLAAD.
Pride
United has since sponsored Pride events in Chicago and other US cities, appointed a specialist sales executive in NY to deal with US gay travel agents and a UK Sales Executive attended the Freedom Fair (the Gay and Lesbian World Travel Expo) to see what potential there was. A United Airlines marquee gave data capture opportunities through a questionnaire. The result was excellent feedback from customers (and staff), and letters of support from the public, including one to a senior VP in the US. There are now opportunities for further below-the-line activities.
The research showed that 15 per cent of people interviewed at Pride had taken a trip to the USA in the last year, 66 per cent had taken more than one trip, and 33 per cent had flown business class.
Marriage equality
They spoke about in favor of marriage equality in the run-up to the 2015 SCOTUS decision. United's Chairman, President and CEO Jeff Smisek issued the following statement: "United Airlines is proud to stand up for marriage equality in the United States. At United, we foster an inclusive and diverse culture, where every employee is accepted, valued, respected and treated fairly. While fully inclusive equal employment, workplace benefits and non-discrimination policies have been part of our company's culture for many years, it is time for our nation to have a uniform marriage rule that gives equal dignity to same-sex couples. With this historic Supreme Court decision on the horizon, we encourage all of corporate America to join United Airlines on the right side of this debate."
Pride problems
In 2017, the problems of the popularity of Pride became visible. More spectators, more participants, more of everything led to the growing need of sponsoring. After the 2015 SCOTUS ruling there was a rush of companies who wanted to participate in the events all around the country. Rising 'offer' of sponsors means rising prices, and when you pay a hefty sum to be a main sponsor, you demand privileges.
This happened when Delta signed on as a lead sponsor of the NY Pride event, which prohibited other airlines from having branding in the parade, including banners, flags, signs, posters, handouts, etc. Delta's original contract with the event prohibited other airlines from marching in the parade, but apparently this violated a law requiring that anyone be allowed to march in a parade. So, other airlines could march and have materials that have the name of their LGBT group on it, but not the airline's name. They were not allowed to have their own float, and could only march towards the back of the parade.
In 2016 JetBlue got around this restriction by partnering with the New York Gay Men's Chorus and sponsoring their float, which had JetBlue branding. But Delta wasn't happy about that, and other airlines were allegedly told that if they attempted to circumvent the rules, they would be blocked from marching.
So that's why United decided to pull out of the parade altogether, rather than having a bad showing. Here's part of the letter that United's Chief Diversity Officer sent out to employees regarding this issue: "Unfortunately, we encountered some unforeseen limitations with our participation in the NYC Pride Parade based on rules stipulated by the parade organizers. We have been informed that Delta has airline exclusivity which prohibits United and other airlines from walking with their company logos. We tried very hard to persuade the parade organizers to relax their prohibition but we were unsuccessful. While we truly regret not being able to walk in this year's parade, this turn of events will not keep us from celebrating."
They DID have a presence at the LGBT Pride Festivals in Chicago, Washington DC, Denver, Houston, and San Francisco. A video was released, called Love for All, in which employee Tyler shares the story of his own relationship, and how diversity flies at United.
Other collaborations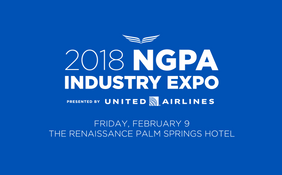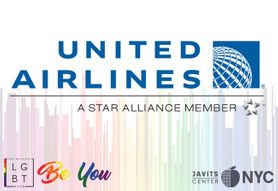 In 2017 United became a sponsor of The Original LGBT Expo 2017. Their motivation: "At United, we drive diversity and inclusion by developing our leaders, attracting and retaining talent and maximizing engagement by sponsoring various organizations and events. Supporting The Original LGBT Expo demonstrates United's commitment to the LGBT Community, and New York City."
They also sponsored the 2018 Industry Expo of the the National Gay Pilots Association.
Since 2010 they have attained a perfect score on the HRC Corporate Equality Index, earning them the label "Best Place to Work for LGBT Equality" by the prominent civil rights group.