Introduction
Public transport is just that: it transports public, and it is often semi-governmental and non-profit (or making subsidized losses). Also, direct competition is limited - unless you count Uber as such. So why would a public transport company target any group, let alone the rainbow demographic?
Research on more than one occasion has found that LGBT people fear for their safety on public transport - be it in Europe or the USA. In London, 40% of LGBT people who participated in a survey avoided using public transport because of fear of or actual assault. In a 2012 European Union survey 50% of LGBT said they avoid certain places or locations, and among the places they listed as most unsafe to be open about their sexual orientations was "public transport".
In 2015, the Diversity Council of the American Public Transportation Association (APTA) decided to create a task force to develop criteria, based on the HRC Equality Index, for members to use as a guide to "better highlight LGBT inclusion, contributions, and needs, to create best practices and to develop research on the LGBT community and it's interactions with public transportation". Starting with their own staff.
One could say that Marketing the Rainbow in public transport serves two purposes: ensure LGBT travellers of a safe environment, and support the community. Let's look at a few examples.
Amtrak
Queerty called US railroad company Amtrak "a longtime supporter of the LGBT community, as well as other minority groups" (2013), after Amtrak launched an all-inclusive advertising campaign.
The "Ride With Pride" campaign (whose website now, for some reason, is only available in Portuguese) depicted two same-sex couples with children, while directing users to a unique, gay-friendly site featuring vacation packages for Martha's Vineyard and Lake Placid, N.Y., among other popular destinations. "While Amtrak's main website, Amtrak.com, is a travel-planning resource for all travelers, the microsites are culturally focused travel sites that host the unique, original multicultural voices of a rotating set of featured bloggers," Amtrak said in a statement.
Towleroad, Instinct magazine and MetroWeekly were just three of the numerous media outlets to feature the ads. "At Amtrak, diversity is not just a corporate buzzword, it's a priority," the company notes on the site. "We understand that valuing diversity is not only a good thing to do, but a business necessity beyond compliance that plays a vital role in customer service delivery and ultimately the success of our operations."
The campaign got praise from LGBT groups, but objections from conservatives, "seeing as the company is tax-payer funded". There was even a debate on the subject on CNN. "Interesting" comments included: "A new marketing campaign uh. Why not just hire the Village People and advertise it as the AIDS train. Or the Abomination Express?" and someone worrying "Isn't that a ride everyone would want to take their family and children on?", as if gay co-travelers would somehow be detrimental to their health or disposition.
The special Ride With Pride website in the meantime redirects to a more general yourtrainstory.com.
For a while, there was an LGBT Amtrak blog, edited by Mark Mastro, but all tracks of that have now disappeared. The blog is still alive, but no longer features an LGBT section.
Side note: a serious accident in Philadelphia (2015) was blamed on a gay conductor, and rumors started that this was connected to "the radical homosexual agenda". The conductor had been a gay activist, fighting for marriage equality. However, rumors it were, and no connection was proven whatsoever.
In July 2016, Amtrak had a competition where you could win a trip on their "Starlight Honeymoon Train", which was aimed at the LGBT community. Their website stated: "Amtrak continues its support of the LGBTQ community by celebrating marriage equality and pride all year 'round. We've teamed up with the Greater Seattle Business Association (GSBA) to bring you the Honeymoon Train on the Coast Starlight. It features roomette service for two and will travel from Seattle to the San Francisco Bay Area. Don't miss out on this prize package, which includes a complimentary one-night stay at the Seattle Sheraton."
For a while, the website gayfamilytrips.com offered a section on Amtrak travels, with special Family Vacation packages. It was accompanied by a statement from Amtrak: "AMTRAK understands that diversity not only begins with respect for our customer, but for a social responsibility that extends outward. Our belief in corporate citizenship begins at the top and filters through our organization. When put in perspective, our communities define who we are as a company." The website visitgaypalmsprings.com advertised Amtrak packages, routes and schedules, such as The Amtrak San Joaquin® and the Amtrak Sunset Limited® train.
Amtrak is also a sponsor of events like Capital Pride in Washington, and a "proud" member of the International Gay & Lesbian Travel Association.
BART San Francisco
The Bay Area Rapid Transit (BART) has showed support for the community for over a decade, not just by starting operations early and closing later, by increasing the amount and length of trains to accommodate the masses attending San Francisco Pride, and partnering with the organisation, but even by participating in the parade. "BART wishes everyone attending a safe and happy weekend, and celebrates our region's diversity alongside riders."
Thalys
In Europe, Thalys launched a campaign in March 2013, showing two (obvious gay) men as one of a series of billboards. Paradoxically, the campaign had only launched for a couple of days when a little scandal arose. Two women kissing each other goodbye on a platform in Paris were told by an employee of Thalys that they should not do so - in fact he said that it's OK for straight couples to kiss on the platform, but not two women. When this was reported to the company, they failed to respond. An online campaign by All Out quickly garnered 60,000 signatures, after which Thalys' CEO committed to improve how it trains its staff. They said they would even use the unfortunate event of homophobia in future equality trainings.
Thalys had previously proven to be on the gay track by participating in Amsterdam Pride, and even being main sponsor.
Deutsche Bahn
In June 2016, Germany's Deutsch Bahn (DB) used a gay couple in an ad celebrating 25 years of ICE-service, with the tagline "Connects more than A and B". And not just gay protagonists: one of them proves to be a football player - just in time for the Euro 2016 championship. Only subtle hints on the relationship are dropped at first, but as the ad progresses it becomes clear that they are lovers. With this storyline, DB tackled two hot topics in one go: also about gay soccer stars coming out. At a certain point in the commercial, the fan appears to be "rooting for the wrong team", another subtle joke (which would mean a entirely different thing in Australia...). In the final scene there is a firm hug (no kiss - but LGBT Germany called it "a hug that may just melt your heart"), after which the two walk away hand in hand in the station. German tabloid BILD described the advert as "taboo-breaking".
DB wrote: "For the ICE's 25th birthday,we want to show how it connects more than train stations and cities. Those we welcome on board our trains as customers reflect our society. Whether black or white, young or old, scientists, bankers, crane operators, or unemployed, footballers and musician , gay, lesbian or heterosexual." Reactions were mixed, critics pointing out that DB has not been known for either innovation, nor reliability, but certainly not for "progressive messages". Most reactions called the clip "heartwarming" though.
Germany is still one of the last vestiges in Europe where same-sex marriage is not possible, although it was the first to have a professional footbal player coming out.
Copenhagen
"Copenhagen is the most LGBT-friendly place on Earth", claims the website of the Danish tourist office. Ever since it hosted EuroPride in 1996, the city has organized an annual Pride festival. "When the Copenhagen Pride Parade runs through the capital, the whole city celebrates sexual diversity." Town Hall Square becomes the Pride Square, and around 25,000 people partcipate in the parade. They have to be transported, so a Rainbow Train is driving between Malmoe, Sweden and Copenhagen, Denmark in July and August.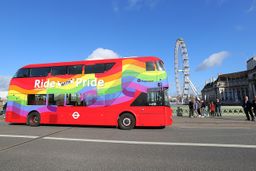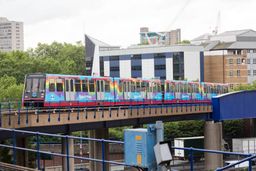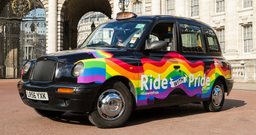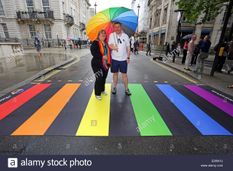 London
London's transport authority introduced a number of high-profile rainbow stunts: in 2014 rolling out a rainbow crossing for Pride in London, later expanding their efforts by making over a London bus and a traditional black taxi - and eventually painting up a Docklands Light Railway train in rainbow colours, with sponsorship from Barclays.
As with most Pride campaigns, these were less marketing efforts than goodwill signs of support. But things change.
In 2017, London mayor Sadiq Khan launched a campaign for Pride, posing with a #loveislove roundel, as some of the most iconic London Underground stations got a rainbow makeover. He said: "Here in London, you're free to love whoever you want to love and be whoever you want to be. That's just one of the reasons why our city is seen as a beacon for the LGBT+ community and has such a vibrant, thriving scene – one that is bursting with colour, and contributes hugely to the life and soul of London. As commuters make their way across the capital, they'll be greeted by rainbow colours taking pride of place at Underground stations, bus stops and Santander Cycles around Soho, sending a strong message of support to London's lesbian, gay, bisexual and transgender community. This Pride, I look forward to celebrating the capital's diversity and showing that London is open to all people, regardless of background, religion, race, gender, disability, age or sexuality."
Mr Khan, the first Muslim Mayor of London, is a strong supporter of LGBT rights and he embarked on a new tradition of the Mayor leading the annual Pride parade. In a sign of London's diversity and inclusivity, Pride in London marked Ramadan as part of the 2017 Pride festival.
Fifty of the city's hire cycles, known to locals as 'Boris Bikes', were also decorated with rainbow livery, while rainbow flags were flown from bus stops on the day of the Pride parade as well.
Berlin's BVG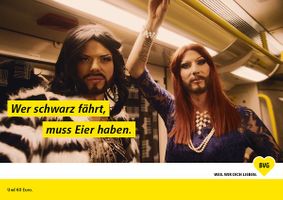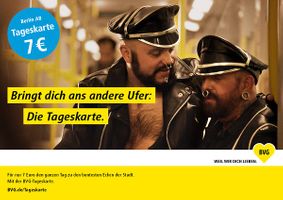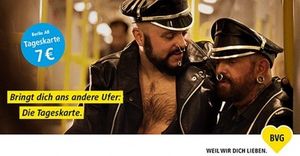 The public transport system of Berlin, BVG, ran a campaign in 2015 and 2016, which combined wordplay and diversity under the banner "Because we love you" (#weilwirdichlieben). They showed a number of funny images, promising to bring you where you wanted, even on 'difficult times', like 04.30am, at the same time warning for unwanted situations (like not buying a ticket). One picture with drag queens said "if you ride without a ticket, you should have balls", another one with heavily leather-clad men: "brings you to the other side (of the river)".
These are just two pictures from the series, which was not aimed at gays (or drag queens) per se, but underlined the fact that BVG does not care who you are – or what you dress like. This was supported by a video by rapper Kazim Akboga (of Germany Got Talent fame), performing "Is mir egal" ("whatever"). The clip included most of the images from the print campaign, and garnered almost 7 million views. The corresponding Facebook page has over 80,000 likes.
The German LGBT movement praised the campaign, saying it was more than a marketing gig: "BVG has been a member of the Berlin Association against Homophobia since 2011, and it has become tradition now that CEO Sigrid Evelyn Nikutta flies a rainbow flag on the Nolledorfplatz station at the start of Pride season. The cupola of the station is illuminated in rainbow colors at night."
In 2013 the BVG flew a rainbow flag at their main station U-Bahnhof Nollendorfplatz, in protest against the Russian anti-LGBT laws, and the demonstration "Enough is Enough".
Dublin Bus
Dublin Bus (Irish: Bus Átha Cliath) is a bus operator providing public transport services in Dublin. The company carries some 150 million passengers a year. In 2017 they first had a campaign in support of the LGBT community, by wrapping a bus in the rainbow. The next year they had a beautiful and emotional clip "Proud Dads", followed in 2019 by "The Long Road To Pride". In 2020 they teamed up with charity BeLonG To for a campaign highlighting support services available for LGBT+ youth in Ireland and to raise awareness around the ongoing struggles faced by the community. A visual campaign was rolled out across 100 buses for two weeks as a reminder that 'Growing Up LGBTI+ Isn't All Rainbows'. Click here for the full article.
Rail Europe
Paneuropean organization Rail Europe used the slogan "See Europe with one friend or a few", while trying to lure American tourist to come to Europe. The image used suggested 'best buddies' to say the least.
Public safety - NZTA
New Zealand's Transport Agency is the Crown entity tasked with promoting safe and functional transport. They produced a funny commercial in 2016, featuring people reaching for the phone but being intercepted by their fellow passengers to result in sometimes cute, and sometimes awkward situations – including to male-to-male ones. The romantic music in the background – Lionel Richie's "Hello" – makes the ads even funnier.
Amsterdam's rainbow station
Although in a city like Amsterdam support for the LGBT community is omnipresent, the rainbow projected onto the Central Station late 2015 (for a year) was for a different reason. The work came courtesy of artist Daan Roosegaarde in celebration of the 125th anniversary of the station's opening and the start of the UNESCO International Year of Light 2015.
Photos: Studio Roosegaarde