Introduction
Marriott International is an American multinational hospitality company that operates a broad portfolio of hotels and related lodging facilities. Founded by J. Willard Marriott, the company is now led by his son, Executive Chairman Bill Marriott. President and Chief Executive Officer (since 2012) Arne Sorenson was the third CEO in Marriott's history, and the first without Marriott as a last name. He was a powerful ally of the LGBT community, and sadly passed away early 2021 .
The company has more than 5,700 properties in 110 countries around the world, over 1.2 million rooms (as of September 23, 2016), and additional 195,000 rooms in the pipeline. As such, they are viewed upon as one of the market leaders, hence as a role model.
The rainbow beginning and LGBT partnerships
Before launching into rainbow marketing, Marriott took a number of steps to show their good intentions. In the late 1990's they started offering benefits for same-sex domestic partners of their American employees.
They are partnered with:
• Human Rights Campaign
• IGLTA
• PFLAG
• National Gay and Lesbian Chamber of Commerce (NGLCC)
• National Center for Lesbian Rights

Marriott not only pledged allegiance to LGBT employees and customers : after becoming a corporate member of the NGLCC in April 2007, Marriott revealed plans to increase its spending power with gay suppliers by 15% over the next two years, primarily in the UK and Brazil. They said they spent approximately $ 400m with "diverse" suppliers the year before, building on a diversity strategy it established in 2005. Mike Tobolski, senior director of diversity initiatives at Marriott, said: "We plan to build on our company's success in the USA and expand our program to nurture relationships internationally and within the LGBT community."
The official stance
An insider commented: "This is a big achievement for us as a company considering the Mormon background of Mr. Marriott and the stance of many stockholders."
Marriott's Mormon faith (and politics) may have been factored into the chain's 2011 decision to remove pay-per-view pornography from in-room TV systems. This decision came after a long stint of pressure from Christian organizations, and was seen as connected to Romney's presidential campaign: he had been an on-and-off board member - and the porn was a thorn in Romney's side in 2008. But ultimately, the chain attributed the move to the hotels' inability to compete with adult entertainment on guests' devices - a claim supported by hospitality market research showing a general dip in revenue for in-room pornography.
People wondered how Bill Marriott put aside his Mormon beliefs, well... to cash in on the LGBT travel market (estimated at $ 200 billion a year in the US alone). He told Businessweek in 2012: "Our church is very much opposed to alcohol and we're probably one of the biggest sales engines of liquor in the United States. I don't drink. We serve a lot of liquor. You're in business. You've got to make money. We have to appeal to the masses out there, no matter what their beliefs are."
In fact, Bill Marriott has been a quiet supporter of LGBT rights for more than 25 years. He blogged: "Marriott International is a public company and is not controlled by any one individual or family. The Bible that I love teaches me about honesty, integrity and unconditional love for all people. But beyond that, I am very careful about separating my personal faith and beliefs from how we run our business… We embrace all people as our customers, associates, owners and franchisees regardless of race, sex, gender identity or sexual orientation."
And business it is: in 2012 the Marriott hotel in Chicago even hosted the "International Mr. Leather Competition". Some effort apparently went into prising the event and its estimated 16,000 participants away from the Hyatt Towers venue down the street.
In 2013, the San Francisco Marriott Marquis hosted the 22nd Annual GLAAD Media Awards.
Vocal about diversity
Marriott opposed California's Proposition 8, which banned same-sex marriage - even refused to donate to the campaign run by the Mormon Church in favour of Prop 8. Instead, he stepped into the drama by publicly reinforcing his company's commitment to gay rights through domestic partners benefits and services aimed at gay couples.
They were one of the first companies to join the Human Rights Campaign calling for the repeal of the federal Defense of Marriage Act (DOMA). CEO Arne Sorensen stated in June 2013: "Marriott takes seriously its obligations as a community leader when it comes to standing with the LGBT community as true allies in equality. It is fitting that at the end of a month commemorating the history of progress within the LGBT community, we receive word DOMA will also become just that - history. We say Bravo!"
In 2016, Sorenson joined the chorus of business leaders speaking out against the sudden growth of so-called religious freedom bills (led by Indiana Governor Mike Pence). "The legislation in Indiana, and there are some bills being considered in other states, is not just pure idiocy from a business perspective, and it is that," Sorenson said. "The notion that you can tell businesses that they are somehow free to discriminate against people based on who they are is madness."
Going online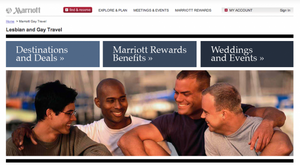 A bit late to the game, Marriott launched a special LGBT section of their website in 2010, saying: "We've Been Proud for Years: We're proud to say Marriott was one of the first hotel companies to offer equal benefits to same-sex couples nationwide, earning us top ratings on the Corporate Equality Index from the Human Rights Campaign." Marriott had long been recognized for its diversity outreach and was consistently recommended in the HRC's annual "Buying for Equality" guide. They were awarded their ninth 100% score in a row in 2022.
The website lists Pride events, and a Wedding section with programs for ceremonies, honeymoons, events and testimonials.
Be You, With Us.
June 2012 saw the start of a new marketing campaign aimed at LGBT travelers, friends and families: "Be You, With Us.". It was launched in cities around the world that host gay pride parades and festivals, and was filled with imagery and messages that welcome all guests to be themselves when staying with Marriott.
The campaign came to life through travel packages and hotel experiences and culminated with a sweepstakes where one grand prize winner and guest received a trip valued at $ 5,000 to the 2013 New York, San Francisco or Berlin Gay Pride Festivals.
"We are proud of this campaign and of our long-standing reputation for our commitment to diversity and inclusion," said Joanna Todd, VP at Marriott. "Our core strength lies in our ability to embrace differences and make everyone feel respected and valued when they visit and stay in our hotels. Later this year, we will also launch new campaigns to reach African American and Latino audiences."
#Love Travels
In 2014 they commissioned photographer Braden Summers, known for his All Love Is Equal project, to take pictures for the #LoveTravels campaign "that would celebrate inclusion". Ex-NBA player Jason Collins, who was the first openly gay man in any of America's four major sports leagues, and transgender model Geena Rocero were among the people highlighted in the campaign to emphasize how Marriott extends hospitality to everyone. Collins called the campaign "important not only to the LGBT community but to society in general. When I travel with a boyfriend, we really want to feel that sense of inclusiveness regardless of our sexual orientation or religion. We want that feeling of being welcome."
Some of the pictures used were unveiled as building wraps at five hotels in Washington, D.C.
Christian websites were shocked: "The Marriott Hotel chain is actively promoting homosexual lifestyles through its #LoveTravels campaign, seeming to throw its Mormon foundation to the wind. The company even offers gay lifestyle packages, including wedding destinations and local activities." But nobody else took offense.
A DC marriage
In 2015 Marriott acted as official sponsor of the 40th anniversary of the D.C. Capital Pride Parade, with a record breaking attendance of more than 350,000 people. During the event Marriott hosted the first same-sex marriage ever officiated at the DC Pride. The happily wedded groom and groom were George Carrancho (who, as National Sales & Marketing Manager LGBT for American Airlines, had set up their rainbow program) and Sean Franklin: they got married by E!'s flamboyant Ross Mathews. On the day of the wedding, same sex marriage wasn't recognized as a legal partnership in Texas where the two men first met in 2007, but that of course changed with the subsequent SCOTUS ruling.
Scores
Since 2015, Marriott has earned a perfect 100% score on the Human Rights Campaign's Corporate Equality Index - which was still 90% in 2012.
In their 2015 survey, Community Inc. saw Marriott as the winner: the highest percentage of respondents, 41%, indicated that Marriott International did the best job with their LGBT outreach during the past year, followed by Hilton with 39%. Hyatt, W and Kimpton came in next (19%, 16%, 13%). In 2010, Marriott ended in fifth place with only 7% of the votes.