The market
Since the purchase of a car involves quite a substantial amount of money, car manufacturers have turned their attention to the L and G markets decades ago: some brands aim for gay men, others typically for lesbians.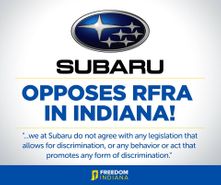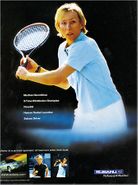 Subaru was the first one to recommend themselves to lesbian drivers, and they have done so for years, with the help of i.a. Martina Navratilova. Subaru also spoke out politically, in support of LGBT. They are, hands down, the winner in the LGBT-friendly competition (see below).
Brands like Jeep, Audi, Toyota, Fiat, BMW, Ford and Volvo have all targeted the G(LBT) consumers over the years, and this has only increased since the 2015 verdict of the SCOTUS in the US has made the rainbow mainstream.
Gay Wheels
The website Gay Wheels is dedicated to the car as an object of admiration, status, hobby for gays and lesbians, and discusses how – and why – car companies engage in gay marketing. They describe themselves as "the sole source of information specifically targeted to and about lesbian, gay, bisexual and transgender car-shoppers." Interestingly, their political correctness overrides reality, in a sense that no car maker has ever targeted those four subgroups. Yet, they are all likely to shop for cars...
Gaywheels reports: "There has been a lot of talk about "gay" cars but nobody has ever asked if a car can be gay-friendly. Is it possible that one vehicle is more gay-friendly than another? Does it matter? The answers are "yes" and "to most of us, yes". Research on the LGBT consumer shows that majority of us want to spend our money with companies that have progressive policies towards their LGBT employees. The only problem is, that information isn't easy to find, until now."
The site is said to provide a "gay-friendly" way to shop for cars, eventually linking users to "progressive" manufacturers, dealers, and insurance companies that offer domestic-partner benefits to their employees. According to founder Joe LaMuraglia, 71% of LGBT consumers say that it's important to spend their money with companies that offer such benefits.
Note: in 2008, glossy Vanity Fair launched Stick Shift: The Gay Car Blog. The blogger wrote: "Well, you know what a car is, right? The word Gay here defines a sub-category of them. It is not (simply) intended as a synonym for rejected or sub-standard. It is not (simply) meant to encompass cars that are pastel-colored or sport a sibilant exhaust note. And it doesn't (simply) characterize a vehicle's owner. A car's gayness — like gayness in general — is based in its inhabiting the margins of conventionality. A Gay Car is quirkier, more enigmatic, or more fiercely accessorized than the average vehicle. (It also likes to sleep with other Gay Cars.)" Not surprisingly, the blog did not exist for long.
Gay-friendly cars
"Launched in 2005, Gaywheels.com is dedicated to promoting responsible consumerism and affecting change by encouraging car shoppers to patronize gay-friendly companies throughout the vehicle purchase process."
They have listed those companies they consider "gay friendly", and also the "Non-gay-friendly" . The classification was made primarily based on the fact whether or not they offer domestic-partner benefits to their LGBT employees, not so much if they (in)directly target the gay market, or how they do so.
The "gay-friendly" listing is accompanied by following recommendation: "The brands listed below are gay-friendly. Please consider their progressive policies towards their LGBT employees when shopping for your next vehicle", whereas the second list is introduced as "The brands listed below do not offer domestic-partner benefits to their LGBT employees. We urge you to take their policies towards their LGBT employees into consideration when shopping for your next vehicle."
While in 2011, Hyundai, Porsche, Kia and Suzuki were still listed as non-gay-friendly, by 2017 only Kia remains in this cagtegory. The third category lists those brands where not enough information is available to qualify them: this list consisted of only the top luxury brands Ferrari, Maserati, Lotus and Lamborghini, and Tesla, while latter has now been moved to the gay-friendly category.
The sign of the times: effectively 95% of car makers are now on the main stage, a few small brands are still in the shadows.
Trends and attitude
"Gay men are into cars mainly as fashion accessories, not because they like cars. Cars are like clothes for gay guys. And one follows the other," says British columnist Adrian Gillan. "It is just what a single gay guy needs about town."
Harris Interactive did a survey in 2005 that showed LGBT drivers prefer imports and luxury brands. Harris says that the LGBT community is more aware of and is more likely to patronize brands that advertise directly to them – community outreach and LGBT advertising done by Volvo, BMW, Subaru and Volkswagen apparently score the manufacturers points with the LGBT crowd.
Additionally, one in two people in the LGBT community would consider buying a hybrid, versus one in three non-LGBT persons, and LGBT folks are more likely to respond to internet and word-of-mouth recommendations.
However… in the survey, people who openly identify as LGBT typically also identify as liberal, educated and middle class or higher. Is it possible that if Harris interviewed straight folks who have all those characteristics, they would come up with similar numbers?
Trendsetters
As with other products, cars have been used to target gays as the trendsetters they are believed to be. For instance, in 2011, when Alfa Romeo wanted to grow in the Japanese market, where they only had a 0.1% market share, they knew they could hardly compete with the local manufacturers, who had a 90% combined market share. So Tiziana Alamprese, Alfa Romeo's marketing director in Japan, aimed her efforts at a group of customers usually overlooked by most Japanese companies: gay men and lesbians. She tied up with local gay organizations and began sponsoring gay film festivals and pride events, where they handed out red Alfa Romeo condoms. They branded the cars as sexy, strong, independent, making it about an individual choice. Although Alamprese's gay-marketing proposals initially ran into resistance from local managers, their sales doubled in one year, so they are no longer complaining. The campaign didn't spark any public controversies or issues.
The players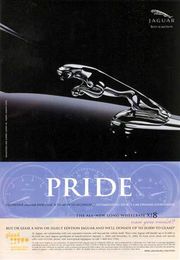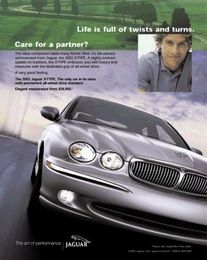 In 2001 AdRespect's Mike Wilke stated "Long known as a conservative industry, car makers are slowly driving into the gay market, with Volkswagen recently parking themself in gay media. Europe's top carmaker, Volkswagen first appeared in the 2001 June issues of OUT magazine and The Advocate. Volvo appeared in the July issue of Genre and Jaguar was a sponsor of the 2001 GLAAD Media Awards.
The brands joined existing players Subaru, Saturn, Saab and BMW, who've already had a presence in the U.S. gay market. Saab arrived first in 1994, Subaru in 1997, Saturn once in 1995 but then consistently afterward in 1999, while BMW had just a one-time 1999 appearance in Profile Pursuit's Pride guides.
While General Motors' Saturn continues to be the sole American brand with a gay market presence domestically (Daimler Chrysler's Jeep and Ford Focus appear in British gay media but not in the U.S.), it is no longer as simple as saying that international marketers are more progressive at reaching out to gays."
OUT/Advocate publisher Joe Landry was pushing for more American car brands to be joining the lot. "The door opened when the American companies began offering Domestic Partnership benefits" in 2000, says Landry. "We're spending a lot of money and resources on winning them now. We're getting a lot more appointments with the agencies than in the past. It really demonstrates a shift in corporate culture." Landry says that he sees the auto ad category acting like others did five years ago, when there was resistance first. "It's about to break open."
By 2004, fifteen brands had followed first mover Subaru (especially in the USA): BMW, Mercedes, Ford, Volvo, Jaguar, Volkswagen, Seat, Peugeot, Porsche, Land Rover, Toyota, Audi, Mitsubishi, Nissan. More would follow. In 2019, this group has grown much bigger. Now that the attitude in most (western) societies is in favor of equality and acceptance, the major brands are no longer afraid to show their true colors. The rainbow it is!