Introduction
Walmart Stores, Inc, doing business as Walmart, is the US largest retail store company - as well as the largest private employer in the world - and hence serves as a role model. The founder's philosophy was "If you take care of your people, your people will take care of the customer, and the business will take care of itself." However, this was not always reflected in the company's policy.
They have long been known for generally taking a conservative stance: it pulled Maxim magazine from its shelves for its revealing content and canceled its order for Jon Stewart's best-selling "America (The Book)" because it featured a fake photo of naked Supreme Court justices.
As to LGBT rights Walmart has a checkered history. Over the past 15 years, though, Walmart has made a remarkable - if not consistent - turnaround on LGBT matters. In the Human Rights Campaign's annual Corporate Equality Index of 2002 Walmart scored 14 out of a possible 100; in 2008, it scored 40; this year, it scored 90.
Advocate reports: "Walmart's transformation into an LGBT ally may be a curveball in the retailer's conservative half-century history, but it parallels America's new boardroom ethics. Most major companies are now deeply invested in talent acquisition and retention, diversity initiatives, and good PR in the age of hashtag activism. "
Walmart steps up - and down
Walmart was one of the first companies that solicited the advice of Out & Equal, whose priority lies in encouraging employees to come out at work and broach domestic-partner benefits with HR. The retailer has also donated at least $60,000 to the organization.
In 2003 - after years of lobbying by activist groups - Walmart extended its workplace nondiscrimination policy to include sexual orientation. In 2005 they staged an in-house seminar called "Why Market to Gay America," but it took until 2006 for Walmart to take further steps, when they hired gay-marketing consultant Witeck-Combs Communications, joined the National Gay & Lesbian Chamber of Commerce (NGLCC) and begun discussions with activist groups about extending domestic-partnership benefits to its employees. This was rather bold, in the light of timing: these were the days before the majority public opinion had grown to approve of such policies, and boycotts were all around (mind you, without much success). The hesitation was also illustrated by the official reaction of Walmart: they declined to comment on the three steps they took and would only confirm the company's partnership with the NGLCC.
Reactions
Like clockwork, the religious zealots reacted. The Family Research Council's Tony Perkins asked consumers to challenge Walmart on why it chose to "fund radical social activism." The American Family Association issued an "Action Alert" kvetching about the NGLCC deal and called for a nationwide Black Friday boycott..
The Americans for Truth about Homosexuality (AFTAH) criticized Walmart for giving increased financial support to LGBT groups such as the Gay & Lesbian Victory Fund, and encouraged customers to contact the company to stop using its corporate dollars to further the gay agenda. Their president Peter LaBarbera worriedly observed that the company had increased its Corporate Equality Index (which he called "rigged") to 90%. He prophecized: the next step for them to achieve a rating of 100% is to give "transgender health benefits". This would mean that they would be supporting "body-mutilating sex reassignment surgeries" and passing them off as "health" benefits. Imagine the horror...
Note: in the same article they criticize Walmart for stopping to sell Confederate flags as a statement against racism.
On the other hand (or rather, "side") AdAge reacted: "Walmart believes in true family values: a good deal for everyone, straight and gay. That's the American way."
Walmart responded by withdrawing from the chamber. It issued a statement saying it would no longer contribute to "highly controversial issues, or give preference to gay or lesbian suppliers," citing a corporate mandate to remain neutral on controversial issues. Yet, in 2009 CEO Mike Duke signed a petition supporting an Arkansas law prohibiting same-sex couples from adopting - how is that for 'remaining neutral'?
Closer collaboration with NGLCC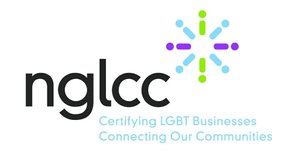 In 2010 they resuemed their partnership with the NGLCC, which among other things served to helped attract and hire a diverse array of suppliers. This move was not without controversy as both conservative and gay activist groups criticized the alliance. On the right, both the Family Research Council and the Culture and Family Institute at Concerned Women for America spoke out against the partnership between Walmart and NGLCC. "I don't think this is something that will sell on Main Street America, where most Walmart stores are located," said the Family Research Council. On the left, Pride at Work, a constituency within the AFL-CIO labor confederation, criticized NGLCC's partnership with Walmart because the retailer did not offer domestic partner benefits to its gay employees.
In 2013 they finally came around, and announced to offer benefits to same-sex and domestic partners of its workers (at a time when other major companies were doing away with spousal benefits altogether). The move came after a slump in sales, when the effects of the crisis became tangible. They veered away from their long-standing conservatism, likely driven by pure business impulses during changing times, and lure by the spending power of the LGBT. Another reason was to show they cared for their workers (after strikes for pay rises). Their ranking on the HRC index was very low at that moment.
Walmart in the offense
In 2015, shortly after Indiana's introduction of the RFRA, the state of Arkansas followed suit with the HB 1228, also known as the Conscience Protection Act. However, due to the unprecedented backlash they saw in Indiana, they were very quick to tune down their wording. This was prompted i.a. by a strong and unexpected statement from Walmart, who calls Arkansas their home state. In a statement in its Twitter feed they asked governor Asa Hutchinson to veto the proposed legislation. CEO Doug McMillon tweeted: the bill's passage "threatens to undermine the spirit of inclusion present through the state of Arkansas and does not reflect the values we proudly uphold".
The statement was all the more remarkable because Walmart had always been known for its insularity and discomfort with social issues. They studiously avoided touching public policy for the most part, rigidly adhering to its founder's vision of a company focused relentlessly on low prices and big stores. However, business imperatives and rapidly shifting public opinion on issues like same-sex marriage, pushed Walmart to take a strong, public stand that would have been unthinkable several years ago.
Justin Nelson of the NGLCC: "You have a company that frankly was abysmal on LGBT issues if you go back five years, but has now become an employer that has a non-discrimination policy that includes sexual orientation and gender identity, that is headquartered in an incredibly conservative state. The fact that they came out and said that this bill cannot discriminate against LGBT people, that's very powerful to say. I don't know that there is a stronger corporate voice that could have said that than Walmart. It's been an evolution. It almost mirrors how America has evolved in those issues."
After the 2016 shooting in the Pulse nightclub in Orlando, a Walmart associate from Marietta, Georgia, tweeted: "Y'all see a gay club shooting as a horrible tragedy. I see it as someone doing community service." Barely 24 hours later, Walmart confirmed that it had fired the employee and that the company doesn't tolerate such behavior.
Pride
As early as 2004 the internal corporate resource group, Walmart PRIDE (Promoting, Respect, Inclusion, Diversity & Equity) was launched by a core groupn of the 600 LGBT at the head office. The group "came out" publicly in 2012. In the US operation, but also at Walmart subsidiary Asda's United Kingdom, PRIDE members and allies can spot one another by a special lapel pin: the Walmart yellow spark over a rainbow. Jokingly, a suggestion was made to change the slogan to 'Save Money, Live Better and Be Fabulous!'.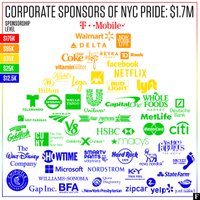 In 2013, Walmart sponsored eight local events that celebrated LGBT Pride Month. By 2015 Walmart sponsors more than 30 Pride events across the country, donates to LGBT organizations such as SAGE and the LGBT Bar Association, and celebrates diversity and inclusion on its corporate blog. AWalmart's global workforce of 2.2 million associates, there would be an estimated 88,000 LGBT.
In 2015, Walmart became Platinum sponsor of New York pride - the highest level of financial support - at roughly $25,000.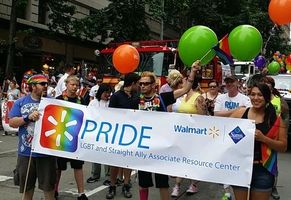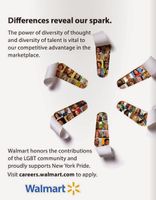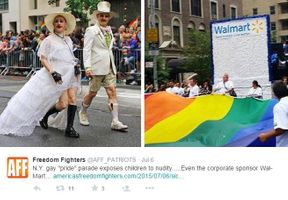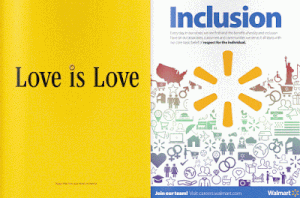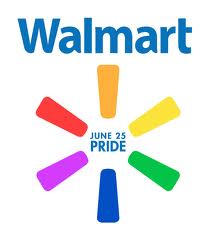 AFTAH's LaBarbera wrote: Moral Corruption of Children - Funded by Walmart: Is this appropriate for children? Will a supposed "constitutional right" to a nationalized homosexual "marriage" - which will ensure that more kids end up in "gay"-led households - "safeguard" children as the Supreme Court majority Justices claim? A little boy marches in the homosexual "pride" parade holding a "rainbow flag." Children love bright colors and flags; thus it is subversive that the beautiful colors on display at pride parades like this are not celebrating goodness and God's creation but rather assorted forms of sex- and gender deviancy and rebellion against God. Do note the many " - signifying that he is not at all so sure about what he is writing.