Fun fact 1: in 1940, Sam Walton began working at a J. C. Penney in Des Moines, Iowa. Walton later went on to found future retailer Walmart in 1962.
Fun fact 2: in January 2012, the company's chief operating office at the time, Michael Kramer, revealed to the Wall Street Journal that more than 30% of the bandwidth of JCPenney's headquarters was used by staff for the viewing of YouTube videos during that month alone. Kramer consequently terminated the tenures of 1,600 employees to "change the company's workplace culture".
Here's Ellen
Early 2012 JCPenney announced that Ellen Degeneres, who was a store associate in her teens, would be the company's new spokesperson, as part of the company's brand transformation. This was amidst the increasing fervor (and battle) over same-sex marriage. Shortly after the announcement, One Million Moms (OMM, with only 40,000 followers on Facebook) , which is affiliated with the American Family Association (AFA), began a boycott of the store, demanding they fire DeGeneres because she is gay. The AFA is considered an anti-gay hate group by the Southern Poverty Law Center, and the campaign was labeled a "hate campaign" by Advertising Age .
OMM stated "By jumping on the pro-gay bandwagon, JC Penney is attempting to gain a new target market and in the process will lose customers with traditional values that have been faithful to them over all these years." They urged their audience to "Ask JC Penney to replace Ellen DeGeneres as their new spokesperson immediately and remain neutral in the culture war."
Note: they also demanded that the United States stop not fund HIV programmes and just tell gay people not to have sex.
The effect, or lack thereof
The campaign did not have the desired effect - on the contrary: the Moms had ignored the fact that Ellen had risen to the level of popularity only Oprah had reached before, so support came in droves. Even archconservative Bill O'Reilly of FOX News to everyone's surprise (including her own) defended Ellen against the OMM, comparing the protest with "the McCarthy era of the 1950s" and concluding "This JCPenney thing is a witch-hunt and it shouldn't happen".
GLAAD launched the Stand Up For Ellen Campaign and consumers were taking to the social media to pledge that they would shop at JC Penney stores more than they ever had before. They also ignited a national conversation about anti-LGBT employment discrimination, drawing significant attention to the fact that in 29 states a person can be fired simply because they're gay, while in 34 states a person can be fired for being transgender." Nearly 50,000 advocates and allies joined GLAAD in the fight.
Finally, Ellen addressed One Million Moms' campaign on her national TV show, poking fun at the activist group in a video that subsequently went viral. The OMM Facebook page then disappeared, and was instead followed up by pages like 'STOP One Million Moms', 'One Million Gays for JC Penney', 'One Million Moms Shopping at JCPenney For Ellen' and finally '1 Million People Who Support Ellen for JCPenney', whose numbers quickly surpassed that of One Million Moms.
Bloggers organised local 'shop-in' events, a Gay Day and an LGBT flashmob in New York City. "JCPenney may have lost a few moms, but they gained an army of enthusiastic and loyal new customers who now trust and believe in the brand. In a recession, brand trust is gold dust and in the case of JCPenney can give them buoyancy as customers renew their patronage or choose to visit for the first time. Benefits of which will be felt long after the next fire sale."
The campaign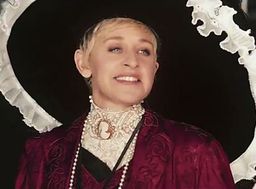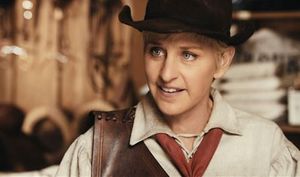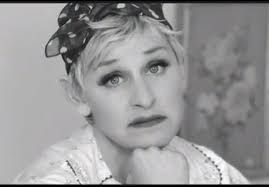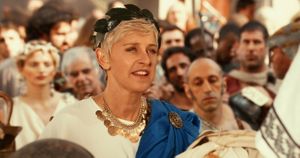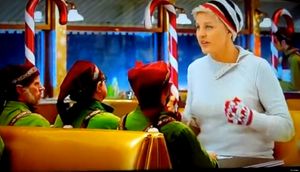 The first five ads produced by JCPenney, featuring Ellen, were broadcast during the 2012 Oscars - otherwise known as the "gay Super Bowl" - on Sunday, Feb. 26. They were dubbed "One of the highlights of Hollywood's biggest night" by sites like SheWired.
Greg Clark, Penney's senior VP-creative marketing: "[Ellen] is amazing. I can't think of anyone that would be a more positive and aggressive fan and proponent, partner for us. She believes in our partnership. ... We love that she represents diversity which is what we feel this country is all about. In our marketing images you'll see every race, creed, type interacting as couples, as friends. We're very focused on representing America in its true form, so it's not a maudlin old-fashioned America."
Even the company's CEO, Ron Johnson, chipped in: "We thought Ellen would be the perfect person because we all trust her - she's an honest, straightforward person with extraordinary values. One of the great things about America is people can speak their mind. And you know, the organization that believes one thing has spoken, and it was great to see Ellen share her views yesterday. We stand squarely behind Ellen as our spokesperson. Our company was founded 110 years ago on The Golden Rule about treating people fair and square, just like you would like to be treated yourself. And we think Ellen represents the values of our company and the values that we share."
The fact that this matter was not just discussed by the responsible managers, but even by the CEO indicates that this area is still a highly sensitive one.
More diversity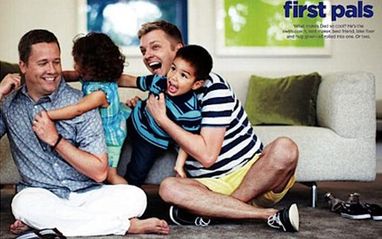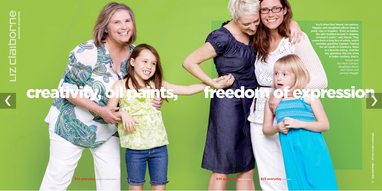 Penney went one step further, rebuffed critics and launched a lesbian ad for Mother's Day, followed by a two-dads family - a real family - for Father's Day. It did not go unnoticed: in the first month, the photo of latter ad was viewed 50 million times.
In June the two dads featured in the ad, Cooper Smith and Todd Koch, were walking alongside JCPenney employees in the NYC Pride March: "We're so proud of JCPenney for including families like ours in their celebration of parents and showcasing the diversity of the American experience." The ad was nominated for the 2012 GLAAD Amplifier Awards.
OMM withdraws
On March 8, just weeks after the announced boycott, Monica Cole, director of the OMM told OneNewsNow that members were backing down and had decided to move on to other issues. Still, as if this would mean the action was justified, she noted, "We have heard back from men and women - not just moms - saying they will no longer shop there at JCPenney, as long as Ellen DeGeneres is their spokesperson." Meanwhile, the OMM director finds it "interesting" that Fitch Ratings, a global agency, recently downgraded JCPenney's credit rating to "junk".
By Xmas 2016, OMM's mother AFA issued a Naughty or Nice list, which shows shoppers stores that they should shop in or avoid, based on their use of the word "Christmas" and how much they have secularised the holiday. Surprisingly, JCPennye is on the "nice" list, which is headed prominently (and hyperlinked) by AFA Online Store.
By the way, OMM cannot be accused of being just anti-gay. Their indignation is not only about the "homosexual agenda". They have also attacked Urban Outfitters because its holiday catalog includes items that have naughty words on them. Among those products is a "Merry Christmas, Bitches" coffee mug and a "Let's Fucking Reminisce" scrapbook. Their scorn was also roused by The Muppet Show and Campbell's Soup.

The aftermath
However, things did not go smoothly for the retailer. After only 17 months they booted CEO Ron Johnson, who was wooed from Apple with much fanfare, after he oversaw a $4 billion loss in revenue in his brief tenure.
"It's no secret," began a new J.C. Penney television ad, apologizing to shoppers alienated by Johnson's controversial store revamps. "Recently, J.C. Penney changed. Some changes you liked and some you didn't, but what matters from mistakes is what we learn. We learned a very simple thing, to listen to you. To hear what you need, to make your life more beautiful. Come back to JCPenney, we heard you. Now, we'd love to see you."
Ellen is no longer the spokesperson for the company, but it is unclear if this had any connection with the downturn.