The Swedish global brand has used all elements of the LGBT spectrum (and more) in their campaigns, often in a positive way show to their support, but sometimes in a 'funny' way, that was perceived as hurtful. In any case, it was noticed, both by the community as well as the conservative right.
Introduction
Founded by 17-year old Ingvar Kamprad (the "IK" in IKEA, the E standing for Elmtaryd [the farm where he grew up] and the A for Agunnaryd [his hometown in South Sweden]), in Sweden in 1943, it had becme the world's largest furniture retailer by 2008. As of October 2016, IKEA owns and operates close to 400 stores in 38 countries. Note: A July 2013 media report speculated that IKEA is the world's largest consumer of wood after a finding that the company uses 1% of the Earth's wood supply.
An Ikea store is not really a store at all: it is part museum, part shopping theme park. It talks of "visitors", not customers; it offers a "shopping experience", not a sales pitch. Kamprad's vision really is religious: the company exists to improve not just the lot of people, but the people themselves. Self-sufficiency is the watchword: you find your own way round the store, choose your goods with minimal assistance from staff, carry them to the check-out and the car, cart them home, and then assemble them yourselves. The company doesn't do this just because it keeps costs (and thus prices) down, but because it is good for you. It makes you a better person.
The relationship theory
Ikea is preoccupied with relationships. Whereas traditional stores have usually appealed to individual consumers, Ikea wants to attract families or groups of friends. You often see not just couples trailing around, but the rest of the extended family, too: it is the modern equivalent of the day at the seaside in the 50s and 60s, a chance for the family to do something communally. But Ikea wants to have it both ways. It knows that the nuclear family is disintegrating, so it seeks to appeal beyond its boundaries. A few years ago it ran an ad campaign, tagged "Make a fresh start", that encouraged people in failing marriages to get divorced. It pitches directly to remarrying couples, to single parents (men as well as women), and to gay couples, who feature prominently in its advertising. Part of its optimism lies in a belief that the right relationship can be found; that dud relationships should be ditched; that you have to be yourself.
The beginning
In 1994 IKEA ran a commercial widely thought to be the first commercial featuring a homosexual couple. This groundbreaking spot made news around the world: it features a male couple shopping for a dining room table together. The two middle-aged guys, who finish each other's sentences, say "a leaf means commitment." At the end, one says, "We've got another leaf waiting for when we REALLY start getting along" -- perhaps implying marriage or having children.
It was one of the first times an advertiser dealt with a gay relationship frankly in the US. (It was not the very first, however. One year earlier, a remarkable Danish commercial for Politiken newspaper was the first to depict a male couple together, with a passionate kiss.) It was not "gay vague" as many ads before or after this one were: the two men verbally declared to be each other's partner.
Although IKEA accepted the ad, the retailer still had some reservations. The spot ran only once in New York City and Washington, D.C. after 21:30 in deference to children. Many wrongly assumed the commercial was meant to target gay buyers, but it was part of a larger campaign about "non-traditional" families, including a mixed race couple and a single mom with an adopted child.
Bomb threat
The commercial's director told the Canadian Broadcasting Corporation that it was not important to be the first company to show a gay couple together and "Actually I was surprised when we first started looking at this, that no one had done it before". The IKEA ad disappeared soon after it began when the retailer got a bomb threat at a store from conservatives, along with calls for a boycott. Nonetheless, the commercial was well-liked by the gay community. The gay stereotype of being fashion-oriented and tastemaker was leveraged in the ads, giving a sort of "Gay Housekeeping Seal of Approval" on IKEA. One of the two actors also is openly gay, though he said that was not known when he was cast for the part.
The next round
In 2006 the company returned to its (gay) roots in the US with a new spot - called Living Room - including another gay pair, this time with a child. Following a rainbow of families, the black and Asian male couple is joined by their Golden Retriever and daughter, snuggled in domestic bliss. An ending voiceover asks: "Why shouldn't sofas come in flavors, just like families?" Ikea spokeswoman Mona Liss said: "Home is the most important place in the world, it's the place where we grow our families, however we define family. That includes the people you choose to live with, and the friends and pets you choose to bring in."
The campaign for Ikea, which now has 42 stores in America., was created by advertising agency Deutsch (who also created the 1994 spot). The commercial aired on national cable networks. However, no ads appeared in gay media - a place the company has never advertised in. On the one end this seems at odd with their all-embracing policy, on the other hand it underlines their perception of "all flavors", and they do not see the need to marginalize or segment their advertising.
It was easier to portray a same-sex couple the second time around, 12 years later. "I would say the first time there was more discussion about 'Is it over the top, Is it accurate?' " said Kathy Delaney, chief creative officer of Deutsch. This time there was "not even a debate" to include the male couple again. "It was sort of a no-brainer, gays are part of the world we live in." She adds that when casting the men, "we went with the people we felt were right," and that their mixed races was incidental.
All over the world
Globally, Ikea has a long history of including gay and transgender themes in its advertising, with over 20 examples, though not always from an inclusive approach. In 2001, a stereotyped male couple fights War of the Roses style in a British spot, while an American spot shows a man opening a fortune cookie that says love is in front of him - an overweight man -- which the then tries to re-interpret by looking at a beautiful woman. In an Australian commercial it is suggested that the guy is gay, just because he has his house neatly outfitted with IKEA furniture - after which his dates runs off. These two clips are not highly rated by AdRespect, because they use "gay" as a derogatory characteristic. IKEA has revisited gay and transgender themes a number of times in its commercials over the years.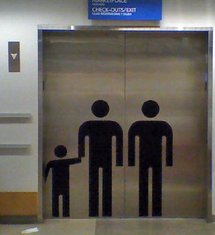 More gay themed ads from Ikea appeared worldwide in 2002. A print ad in The Netherlands showed a girl and her two daddies, one kissing the other on the cheek, while a second one illustrates "coming out of the closet". The gay dads even got their own elevator in Stoughton, Mass:
Fun was made of a gay designer and his flamboyant side-kick in a spot called "Elite Designers Against IKEA".
During Christmas 2011, IKEA ran their first ever Portuguese commercial featuring a gay couple. The spot shows a married gay couple cooking with their parents. The two men explain to the viewers that neither parent thought that his companion would be perfect for their child. One of the two guys says, "My mother would have preferred that I had been married to a doctor." Then everyone gathers to eat Christmas dinner as one big happy family.
Other family scenes are shown in an Italian commercial, "Basta Poco Per Cambiare" (it takes little to change) where a few different family situations are show, including two boys who join their beds together, which indicates their decision to "change".
Transgenders
IKEA Spain has run other commercials targeting the gay community as well as a commercial featuring a transgender woman, called Redecorate Your Life (2010). Set in a hospital, and with cheerful music, a woman is shown being returned to her bed from a gurney, having just had an operation. She opens her eyes as flowers are brought to her and doctors consult on her progress. Time passes and she regains her strength to walk and then gets gifts of lingerie and slippers. Then ready to leave, she packs her clothes but sneers at an old suit. Looking at her ID card, which has the man's name of Jose Felix Torres, she burns it and then smiles -- this is when it is made known that she is a male-to-female transsexual, and had been a man before the surgery. The tagline appears: "Redecorate your life." She is shown walking out of an IKEA store with longer hair and new goods for her new life. The comedic closing shot shows her making a rather "unladylike" adjustment of her new panties, which of course anyone could be caught doing. GLAAD praised the video, saying it was a remarkably nonjudgmental, rather uplifting portrayal of a person who has changed sexes.
A less subtle ad was run in France, where the male to female transgender walks into a table, supposedly badly hurting the still present package.
In Thailand, the use of a transgender model in a commercial caused controversy in the community, including a letter from the Thai Transgender Alliance who called the ad "disrespectful", demanding a public apology. This TV commercial shows a Thai couple visiting an IKEA store, when suddenly the "girlfriend" was so excited about the pillows on sale, her (or his) voice drops in to a deeper sound shocking the partner. In the final shot, the woman walks off with a pile of heavy boxes on her shoulder, while the man runs the other way.
Non-judgmental
On occasion of the opening of the new store in Catania, Sicily, the Italian operation used a picture of two men holding hands, telling their customers - matter-of-factly - they were "open for all families". Newspaper Il Giornale, owned by then Prime Minister Berlusconi (who had named himself defender of traditional family values, in spite of his own behaviour in that respect) called the campaign "a provocation by the Swedish imperialist", who tried to make everyone equal by selling cheap furniture. The Sicilian regional council was happy though, as the store created 308 new jobs, and welcomed 20,000 visitors on the first day.
Early 2016, Italy used a simple image in the typical IKEA style, stating "To make a family, you do not need instructions".
IKEA USA used an ad, where a woman has just bought a new wardrobe for her place and their narrator (or is she supposed to be her conscience?) tells her that now that she has more room for her clothes that she should go out and get a nice new outfit and go out somewhere and meet some nice new guy. Then she pauses and says "Or a woman. I don't judge."
A commercial in Austria featured a bisexual man in a humorous way, covering the "B" in LGBT.
IKEA Poland was subject of criticism from the staunchly Catholic Fronda magazine in 2008. The latest IKEA catalogue which, among its images of modern family living, included one scenario depicting the young and childfree 'Ian' and 'Steve' under the heading "the family is... two sister souls". The magazine wrote "This ad campaign is connected with the strategy of accustoming people to homosexual relationships and then of legalising such relationships. This is done to establish their image in society as equal and then to legalise them." and urged the readers to boycott IKEA and write them a letter of complaint (even providing a template).
Inspite of some letters and emails coming in, Polish IKEA rep Karolina Horoszczaková was unfazed. "Homosexuality is one of the elements of life in modern society. Our company cannot ignore this," she said, adding that the ad sent the message out loud and clear that, "Family life is changing ... Welcome to the new era."
When I asked IKEA about their motives for these approaches, they stated that for them sexual preference (or any other minority issue) was not relevant. As a matter of fact, they found it so 'normal' that they thought it did not even need discussion or explanation.
Russia and IKEA's surrender
Yet, even IKEA succumbs sometimes. An interview with a lesbian couple in the Russian version of their magazine in 2013 was pulled, due to the nation's anti-gay "homosexual propaganda" law. "One of the conditions we have of running our business is that we have to follow the law in the markets where we operate," IKEA spokeswoman Ylva Magnusson told The Wall Street Journal.
This was not the first time Ikea has been criticized for changing its promotional material. The year before, images of women were deleted from Ikea's Saudi Arabia catalog. Questions were then raised about Ikea's commitment to gender equality, and the company later said it regretted the move.
In a reaction to the Russian incident, equality activists IQEA created an "LGBT-friendly catalogue", and a campaign was started by the Russian-Speaking American LGBT Group RusaLGBT to protest against IKEA's policy. The campaign collected more than 45,000 signatures, after which IKEA agreed to speak up against Russia's new anti-homosexual propoganda bill. IKEA policy and compliance manager, Greg Priest, said:
"In the latest issue of our customer magazine IKEA Family Live, we ran a feature about two women, Kirsty and Clara, living in England with their child. The article appeared in 24 countries but not in Russia where a law prevents us from publishing it. It is a law that has been widely criticized but one that we have to comply with. However, we wanted to take the opportunity to speak about what the IKEA values mean and what we stand for. This is why the current online version of the magazine in 25 countries, including Russia, contains this letter from IKEA Group:
'At IKEA, we believe in people. We are guided by our vision - to help create a better everyday life for the many people. We also believe you can be yourself as an IKEA co-worker, an IKEA customer or in your home. We do our best to stand for equal opportunities and support the human rights of all people. And every co-worker can expect fair treatment and equal opportunities whatever their ethnicity, religion, gender, physical ability, sexual orientation or age.'"
They - almost - got their chance to make up for it late 2016, when IKEA Russia ran their annual competition, searching for customers who would want to be on the cover of the catalogue. A gay couple posed in the Moscow store and entered the competion. Subsequently, the Straight Alliance for LGBT Equality (St. Petersburg) urged their followers to vote for the two men - who quickly took a 7,000 vote lead over the runner-up. This generated a whole lot of media attention, upon which the men decided to withdraw. The threat of the recent anti-LGBT law was too strong for them.
All that being said, IKEA has been a pioneer in the field of inviting LGBT customers and families to their "shopping theme parks", and in spite of a few slip ups they have demonstrated that for them all families are equal and everyone is welcome. Hats off to IKEA!