Introduction
Starbucks has long been a supporter the LGBT community, most visibly through their stance on same-sex marriage. Even though they do not directly advertise to the community in the LGBT media - to the dismay of Todd Evans of Rivendell Media, which places advertisements for the National LGBT Media Association - their diversity policy and inclusion of LGBT themes in their communications speak for themselves.
As early as 2005, they launched "The Way I See It" campaign, printing quotes on its coffee cups from notable figures, such as openly gay author Armistead Maupin – with a quote about coming out of the closet. Some of them were politically controversial, and drew criticism from both conservatives and progressive groups. Starbucks spokeswoman Audrey Lincoff told the Seattle Times that the campaign did not set out to take a political stand, and it didn't matter whether the people quoted on the cups were Democrats or Republicans. They considered the campaign "successful" but quietly disbanded it after two years, because "we redesigned our logo and subsequently the cups".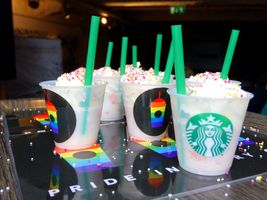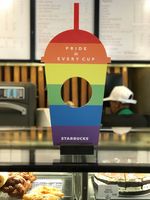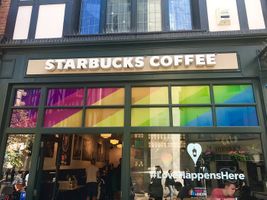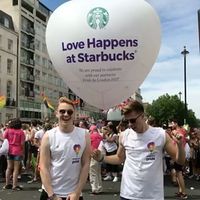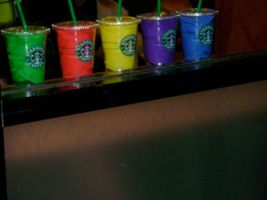 Starbucks' Pride Alliance Network works to affect positive change and increase awareness of the LGBT community within Starbucks. They strive to cultivate an equitable, dynamic, and supportive environment for LGBT partners, allies and customers. The Alliance has sponsored and supported Pride events in many cities, i.a. Seattle, New Jersey, Chicago, Sydney, Johannesburg, London and Amsterdam.
DOMA and marriage equality
In 2011, the company was among a group of 70 businesses and organizations that filed a brief in federal court opposing DOMA. A year later, Starbucks joined Microsoft, Amazon and Nike in announcing support of a Washington state bill to legalize same-sex marriage, which ultimately passed. The National Organization for Marriage (NOM) launched an international "Dump Starbucks" campaign after Starbucks joined a then-growing list of major corporations by publicly endorsing same-sex marriage legislation in Washington state, which not much later led to marriage equality in the state.
A New York pastor – accidentally citing a parody news report as fact – then claimed that "Starbucks is flavoured with gay men's semen". He said "It's the absolute truth. They're using male semen, and putting it into the blends of coffees that they sell. My suspicion is that they're getting their semen from sodomites. Semen flavors up the coffee, and makes you thinks you're having a good time."
The CEO stands up
In 2013 CEO Howard Schultz was addressed by a rebellious shareholder - who was later identified as the founder of the anti-gay marriage Corporate Morality Action Center - at the shareholders meeting, who questioned the profitability of the company in respect of the NOM boycott. Schultz replied: "If you feel, respectfully, that you can get a higher return than the 38% you got last year, it's a free country. You can sell your shares of Starbucks and buy shares in another company.
Having said that, it is not an economic decision to me. The lens in which we are making that decision is through the lens of our people. We employ over 200,000 people in this company, and we want to embrace diversity. Of all kinds."
Mothers' Day and Pride
For Mothers' Day 2013, a Starbucks commercial for the Teavana Oprah Chai Latte featured a few seconds of "snuggling Starbucks lesbians" in what a right-wing blogger described as "an alphabetic homoerotic embrace". The voice-over says: "Two moms are better than one."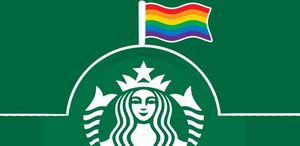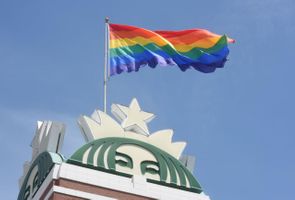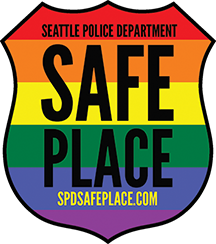 In 2014, Starbucks marked the 40th anniversary of Seattle Pride by raising an enormous 800 square foot rainbow flag over its Seattle headquarters. They also cooperated with the local police to turn all the coffee shops in the city into 'safe spaces' for the victims of homophobic crime, marking the shops with special rainbow-colored 'SPD Safe Space' stickers. Starbucks provided special training to its more than 2,000 employees across 97 shops, training them to offer help to those who have been victims of hate crimes. Spokesperson Heather Jennings said: "We're already a part of our customers' lives and this is another way to be part of the community."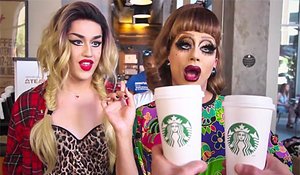 "We are thrilled that Starbucks is showing their support for the LGBT community in this very big, very public way," said Adam McRoberts, Communications Director for Seattle Pride, in an email statement. "The flag flying over their headquarters will welcome thousands of visitors coming to Seattle to celebrate Pride this week and is a testament to the support Starbucks has shown the LGBT community over the years."
It wasn't until October 2014 that Starbucks released it's first "LGBT commercial" – in collaboration with OUTtv – called "Coffee Frenemies", starring the top two contestants from RuPaul's Drag Race season six: Adore Delano and Bianca Del Rio. The commercial is "cheeky, fun and a little bit silly."
Christmas turmoil - again!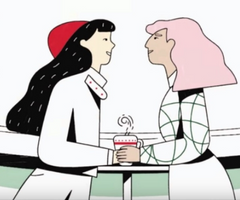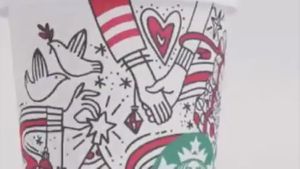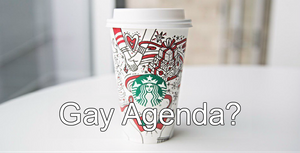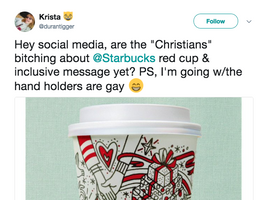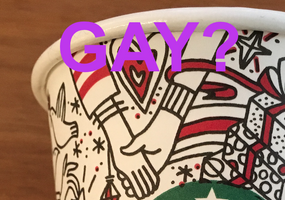 For Christmas 2017 they released the animated commercial "Giving Good Starts With You", which shows different sets of people: a woman video chatting with elderly relatives, a father and daughter, a lesbian couple, and a straight couple (seemingly biracial).
On the traditional season's cup (going on 20 years), decorated with similar drawings that can be colored in, two people hold hands: it looks like these are both female, and this caused more controversy than the spot. One observer said: "I can't tell the genders of the people holding hands, on this cup, could be an abomination, better not risk it," followed enigmatically by a laughing emoji. Buzzfeed said: "It's just the next chapter in the unending drama that is Starbucks-holiday-cup, which was criticized by some in past years for not adequately honoring Christmas."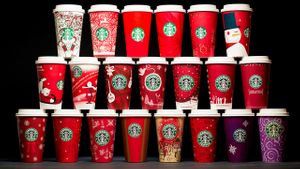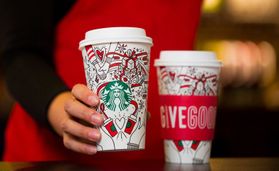 Starbucks refused to confirm or deny the gender of the hands on the cup. The company said in a statement to BuzzFeed: "Each year during the holidays we aim to bring our customers an experience that inspires the spirit of the season, and we will continue to embrace and welcome customers from all backgrounds and religions in our stores around the world."
Asia
An influential Muslim group in Malaysia earlier this year joined a similar organization in Indonesia in an attempted boycott on the giant coffee chain over its support for LGBT rights. The argument: "Our objection is that they are promoting something that is against human instinct, against human behavior and against religion." Malaysia criminalizes gay sex with up to 20 years in prison for those convicted. Starbucks opened in Indonesia back in 2002 and now has around 260 stores there. Amnesty International recently urged Indonesia to stop the caning and arrests of LGBT people in Indonesia. Anti-LGBT discrimination is said to be costing Indonesia as much as $12 billion every year.
Diversity Award
In 2020, the 'bucks was awarded with the Channel 4 Diversity Award in the UK, for their campaign #WhatsYourName. Through a lead commercial picturing Jemma/James, and spinoff shorts with several other pundits, the company put a spotlight on transgenders.
Their reasoning: "Taking a customer's name, writing it on a cup and calling it out is a symbol of our warm welcome. It is part of the Starbucks Experience and creates a moment of connection between our baristas and customers. Our #whatsyourname campaign celebrates this signature act and the significance it can have for some transgender and gender diverse people as they use their new name in public. The advert, created in partnership with creative agency Iris, was inspired by real life experiences of people who were transitioning. We discovered that they found Starbucks stores to be a safe space, where their new name was accepted, and they could be recognised as who they are."