Introduction
Pepsi and the other brands belonging to the same group were among the first major fmcg brands to use gay advertising and marketing.
The company has been broadly eyeing the U.S. gay market since 1997, when it was advised by a gay marketing agency to expand its policies for gay employees first (which is almost always the first step in the process of Marketing the Rainbow).
Corporate efforts to target the LGBT customers did not happen for a while, however. In Colorado Springs, an regional bottler supported Pride events since 1999 and an independent Pepsi bottler was supporting a Pride parade in California in 2001. There were other local initiatives: the Chicago chapter of EQUAL, the employee-resource group for LGBT, organized an event asking straight PepsiCo associates to become LGBT allies. In three days, 475 employees made the ally pledge, committing to support LGBT equality in the workforce and reinforcing the importance of being a visible supporter.
Corporate
On corporate level, first - support was institutionalized. In 2002, the company amended its equal employment opportunity statement to include sexual orientation. In 2004 it added "gender identity and expression," and "domestic partner benefits." They also offer insurance coverage for transgender employees, including leave after surgery, and counseling, hormone therapy, medical visits and surgical procedures. PepsiCo requires that its employees attend sexual orientation and gender identity training. EQUAL's four chapters span all company brand holdings.
The website states: "People are PepsiCo's greatest asset. We believe in building a workforce that reflects the diverse consumers and communities we serve. Diversity and engagement is core to our company's values and how we operate as a global corporate citizen."
Since 2004 they have received a perfect 100 score in the Corporate Equality Index. In 2017 they won the HRC Corporate Equality Award for "exceptional commitment to equality for the LGBTQ community".
The company also won a Workplace Excellence Award at the Out & Equal Summit.
Donating to the cause - and the scorn of conservatives
In 2009, Pepsi made a donation of $500,000 to the Human Rights Campaign and the same amount to PFLAG, which made some people (read American Family Association, AFA) wonder "Has Pepsi Gone Gay?" - also because no donations were made to "organizations opposing to homosexuality". The AFA indignantly observed that PepsiCo was continuing "its support and sponsorship of the homosexual agenda despite growing protest and a continuing boycott of Pepsi products", and "revealed" that PepsiCo was a founding member in establishing a homosexual activist group in Chicago called Citywide Pride. One of the points on the agenda of Citywide Pride allegedly was "Recruitment and engagement" techniques training.
The AFA claimed that Pepsi said: "It really is a true celebration of the entire community when PepsiCo steps out to be part of a parade. In most of these cities, we are giving out a sampling of all our product lines, which are as diverse as Tropicana juice, all the way to Frito-Lay chips. We also hand out cups and banners and whistles. It's really a true corporate presence once we hit the parade route." Bells and whistles... Chicago mothers, watch your children! Pepsi stood by their pro-gay stance and was subsequently praised and elected one of the five most gay-friendly food and drink products by Westworld.
A boycott by the AFA is normally quite beneficial for a brand, see my article about boyotts.
Note: in 2014 AFA announced a boycott of Coco-Cola. Soon, they will only have water left to drink.
Ongoing support
Pepsi was present at the 15th Annual Out & Equal Summit in 2013 with a PepsiCo Café, where they announced to sponsor HRC's Historically Black College and University LGBT Leadership and Career Summit in 2013, providing internship opportunities to Summit participants as well.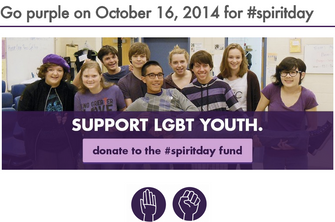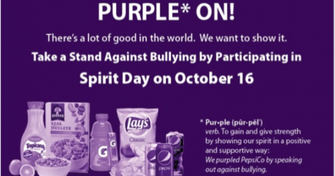 In 2014 they joined brands such as Costco, Apple, Netflix and Gap, by launching an anti-bullying campaign "Go Purple" ahead of the annual Spirit Day (October 16), which is organized by GLAAD. They encouraged their employees to wear purple and to share anti-bullying messages and content from website with the hashtags #SpiritDay and #PurpleOn. "PepsiCo leads by example and is a true ally of the LGBT community and our organization," said GLAAD President Sarah Kate Ellis. Patrick McLaughlin, senior VP of Human Resources for PepsiCo's Frito-Lay was be among the speakers at GLAAD's 2014 Game Changers Gala.
Major events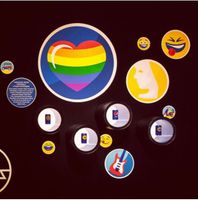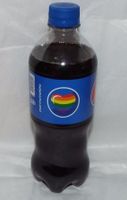 At the Milan Design Week 2016, where Pepsi had a major and impressive presence, they announced to "take emojis offline in new and surprising ways", and the range of emojis included one for the Week's gay pride parade, which was used on bottles as well. Additionally, a partnership with renowned Italian designer Fabio Novembre led to a float for Design Pride 2016. The press release bleated: "The unexpected result, celebrating the mood of the event and Pepsi's new global campaign and visual vocabulary, conveys all the positivity of the American brand reinterpreted with irony and Italian style". So there you have it.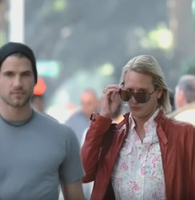 In the 2005 Super Bowl Pepsi spot "Queer Eye" star Carson Kressley gapes at an attractive man on the street. The spot also features Cindy Crawford in a cameo.
Thanks to Pepsi (sponsoring the half-time show) and Satan (?), the 2016 Super Bowl "turned all 114.4 million viewers gay by sneaking in gay pride symbols, upside-down crucifixes, 666s and none-too-subtle hell-pits onstage with Coldplay's help, Illuminati symbolism and liberal propaganda" - according to a conserative vlogger, who was ignorant of the fact that the displayed rainbows and flowers were the images of Coldplay's new CD. So, Pepsi was condemned because of... "Illuminati symbols"? Better not watch the Super Bowl next time.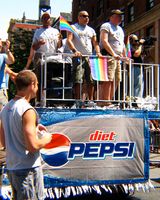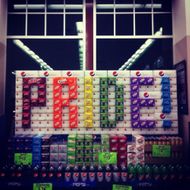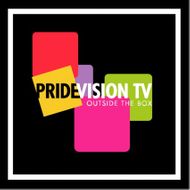 Pride
PepsiCo was one of the first sponsors of PrideVision, a 24-hour gay TV network launched in Canada in 2001.
After the formation of EQUAL, Pepsi made its debut in Pride parades in June 2004, followed by participation in and sponsoring of similar events - like the 35th New York Pride, and in Dallas, Seattle, San Francisco and Los Angeles. Diet Pepsi has kept a relatively consistent gay media presence since then.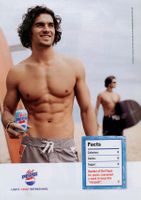 One of their ads features a young, shirtless man with a "nutrition facts" box that lists the number of "six packs consumed a week to keep this 'six pack'" at two.
Jazz Diet Pepsi, the flavored diet drink, was given mainstream publicity as well as an aim for the gay market via LOGO, the gay cable network.
Only joking
In Canada, a "bisexual" man came out of the closet in a commercial and declared his love for... Pepsi and Diet Pepsi. How fun.
In a spot aired in the UK, a man drinks a Pepsi to find courage to ask someone out. He passes up two women and expresses interest in a man. His friends are baffled by his choice, which damages the message a bit, but it is funnily done.
Pepsico's brands Doritos and Lays repeatedly released so-called gay tease commercials. All these ads use gay jokes to appeal to a larger audience (because, who does not want to laugh at the gays?). However, they were not really aimed at the gay market - in fact did more to alienate them - but Pepsi did enter that arena.
Missteps
In 2002 Pepsi ran an ad in Australia, where two wrestlers are fighting. One gets knocked out, and in his 'dream' sees a Kylie-like fairy who does the Pepsi Challenge with him. When he wants to kiss her, he wakes up and is about to kiss his opponent. A violent head-butt is the result. Complaints from Victoria's gay community resulted in an investigation by the country's Advertising Standards Bureau, but no action was taken. Michael Barnett, who registered the complaint, said the commercial "conveys a somewhat unsubtle message that it's okay to be violent if a guy tries to kiss you if you're male. The message it is giving reinforces homophobic attitudes." Darren Borg, marketing director of Pepsi Australia, defendeds the ad as "less gender-specific and not about that at all – it's a competition between two wrestlers." Borg notes that independent local bottlers in Australia had been supportive of the gay community as sponsors of gay events - but not corporate Pepsi, and the commercial in question continued to run.
A big blooper was made in 2009, when a local Pepsi bottler sponsored a concert in Uganda - a country that at the time was considering a new law which would execute or jail for life gay people - by Jamaican artist Beenie Man, who is vehemently anti-gay and in his songs advocates executing LGBT people. Pepsi was apparently not aware of the content of the singer's work, because after protests from GLAAD, OutRage! and Change.org who expressed their anger at the sponsorship, Pepsi said it was "appalled" at the rapper's lyrics, and they profusely apologized.
The competion comes in - but we were first!
Upon hearing news that Diet Coke was also entering the gay market, PepsiCo spokesman Dave DeCecco told Commercial Closet in March 2007, "We were first. We recognized the importance of the gay market and hope that the community will reward that." Diet Pepsi would get more advertising revenue behind it in gay media, DeCecco says and added that Diet Pepsi scored No. 2 (after Absolut vodka) among most popular brands in a 2005 gay.com survey.