Introduction
Market leader - in a $80 billion industry in the US alone - Coca Cola has a long tradition of inclusive marketing and diversity, maybe starting in 1971 with "I'd Like to Teach the World to Sing" in the groundbreaking "Hilltop" television commercial. It portrayed a multicultural collection of teenagers on top of a hill appearing to sing the song. There was no sign of LGBT yet, but this was introduced over the years, both in mainstream advertising, as well as directly targeted at the community.
They were one of the first US companies to support the proposed Employment Non-Discrimination Act , which would protect employees from discrimination due to sexual orientation, and its HR department has funded an LGBT employees association since 2000. They earned a perfect score on the Human Rights Campaign's Corporate Equality Index since the index launched in 2006.
To diet or not to diet
After competitor Pepsi had already decided in 2004 to offer Diet Pepsi to the gays, Diet Coke joined them in the gay media in 2007. Of course, this version of the beverage was already marketed with scantily clad hunks, which became famous, such as the Diet Coke Break guy ('95), a more dressed Office Delivery Man ('97), the Window Washer ('98), and the Sexy Gardener ('13, celebrating 30 years of Diet Coke), which became viral hits - but these ads were primarily aimed at women. There even was a parody in 2018.
To appeal to the seemingly perpetually health-conscious gay market, the Diet Coke ads asking the question, "Sparkling or Sparkling?" ran in Instinct magazine, along with a contest to walk the red carpet of the Oscars which Coke also sponsored. Gay consumers are "big drinkers of Diet Coke and big followers of the Oscars," noted Susan McDermott, spokeswoman for Coca-Cola. "It's an audience we've always been aware of for the brand," she notes. "During the Oscars media buy, we asked, 'Who are we missing?' " They realized the answer was gay consumers.
J.R. Pratts, publisher of Instinct magazine, which now had both soft drink brands as advertisers, said, "We've been pursuing them for years and were calling them every once in a while. I remember when we got the Diet Pepsi buy, we all celebrated," recalled Pratts. "We figured we'd opened the category, we'll see if we can get more soft drink brands. I'm very bullish."
Burn!
In Poland, Coca-Cola introduced Burn energy drink through gay publications, including Replika and Ayor, gay web sites, and as the sponsor of LGBT party events in gay clubs. Trying to be funny, the same brand had a commercial in Italy, where a Don Giovanni leaves a trace of satisfied lovers, concluding with an effeminate man, giving 'Don' a confused look on his face.
Celebrity spottings
In 2013 Diet Coke featured gay fashion designer Marc Jacobs, who also designed a number of cans for the brand - like (gay) predecessors Jean-Paul Gaultier did in 2012 and Karl Lagerfeld in 2011.
Olympic troubles
Inspite of their good ratings, like the HRC index, Coke still suffered protests for its sponsorship of the 2014 Winter Olympics in Sochi, which were darkened by controversy, largely due to Russia's anti-gay laws. Major sponsors Coca-Cola and McDonald's were among those who saw their promotional efforts on social media virtually hijacked by gay rights activists who demanded that they drop their support of the games in light of the unstable social situation in Russia, as well as for the safety of incoming Olympic athletes of the LGBT community. A campaign by SumOfUs.org garnered over 450,000 signatures, urging Coke to speak up.
Things reached a boiling point when Olympic security guards in uniforms showing the Coke logo detained an on-looker that was waving a rainbow flag during the Olympic Torch relay. While McDonald's had to sit back and watch as its "Cheers To Sochi" social campaign was taken over by activists (and subsequently 'killed' by McDonald's), Coca Cola decided not to remain silent.
Gay awards bosses for The Out in the City and G3 Magazine Awards in the UK chucked Coca-Cola off their shortlist after refusal to speak out on LGBTI rights in Russia. They had nominated Coca-Cola in its Brand of the Year category for what are dubbed 'Britain's gay Oscars'.
A case of OOPS...
After the launch of the "Share a Coke" campaign in South Africa in 2014, in which you could personalize a virtual can of Coke, the company was called out for preventing users from typing words associated with homosexuality. Among the banned list of words in the campaign - including f*ck, sex, homo, and dyke - users were also prohibited from entering the word gay. If you typed in that word, you got the message "Oops, let's pretend you didn't just try that." The same thing happened if you tried to type the word "homo" - yet typing "straight" and "hetero" both worked in the promotional tool. In response to the massive push back on social media, Coca-Cola released a formal apology addressing the promotion and subsequent backlash from the LGBT community. This included "This isn't how the program was supposed to work, and we've pulled the site down until we can fix the problem. We apologize for this mistake. As one of the world's most inclusive brands, we value and celebrate diversity. We have long been a strong supporter of the LGBT community and have advocated for inclusion, equality and diversity through both our policies and practices. When errors like this happen, we take it seriously. Thank you for raising this with us, and we'll get it fixed."
Super Bowl diversity
But that was an incident at most. On the other hand, "professional lesbian" Jenn T. Grace described Coca Cola's 2014 Super Bowl commercial - marked by NBC as "Coke features first gay family to appear in a Super Bowl ad" - as one of the best examples of "Inclusion based marketing". Over 111 million people watched it, and the gay couple (with kid) in there was not noticed by many, as it was included as-a-matter-of-factly among many others situations that reflected the diversity of American society.
The commercial aired on Feb. 2, 2014, during Super Bowl XLVIII, and five days later during the opening ceremony of the Winter Olympics. The music underneath the pictures was America The Beautiful (the songwriter being Katherine Lee Bates, a lesbian), sung in different languages. You can imagine the protests that erupted about all the blasphemy that Coca Cola poured out over the American people. About the languages. Nobody seemed to notice the gay seconds, though.
Campaigns like Coca-Cola's are "a step forward for the advertising industry," said Sarah Kate Ellis, president and chief executive of GLAAD, which has long promoted diversity and inclusion in the media, and "a reflection of the growing majority of Americans who proudly support their LGBT friends, family and neighbors."
Reasons to believe
Later that year they sparked some controversy again with the 'Reason to Believe' campaign. While the commercial in most European markets showed multiple images of happy moments in life, including a same-sex couple getting married, in the version that was shown in Ireland the gay couple was replaced by a beautiful inter-racial couple. At that time civil partnership for gay people was legal in Ireland, but gay marriage was not.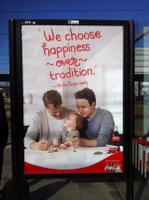 To include the gay wedding was a bold decision of sorts, replacing it was bound to get reactions. Gay-rights advocates claimed that the brand was backing out from its support to same-sex marriage, thus implying that Coke is "ashamed of the LGBT community". A bit of a storm in a teacup, if you ask me. They had already wholeheartedly supported the battle for equality in the US before, and partnered with the Human Rights Campaign as well.
In 2015, the company placed billboards in the Netherlands, as part of their campaign #choosehappiness, showing the "Van Bergen family" - consisting of two fathers and a child, stating "We choose happiness over tradition".
Support
In the course of the past 15 years, they have made a few huge mistakes, but at the same time have both supported the community, as well as targeted them with their advertising, and via sponsoring - such as the Mardi Gras in Sydney, where the landmark billboard in King's Cross was coupled with a rainbow of equal proportions
and a (very late) a statement against the controversial 'religious freedom' bills in the US. After the historical SCOTUS verdict, they were one of the first to rejoice on social media (picture on the right).
Malvern
Part of the Coca Cola group (in the Schweppes division) until they closed their plant in 2010, Malvern Mineral Water used an unusual image of two elderly men holding hands in an English pub to demonstrate that their product was unusual too. However, it was not used to target the gay market and as such was not gay marketing.
Note: Malvern Water is fit for queens. Queen Elizabeth I drank it in public in the 16th century; Queen Victoria refused to travel without it, and it is the only bottled water used by Queen Elizabeth II, which she took on her travels around the world.
The ads Coke released as an Olympic sponsor may have looked like part of their Marketing the Rainbow, but were in fact just shots of bonding ahtletes.