Introduction
Campari is an Italian company active since 1860 in the branded beverage industry. It produces spirits, wines, and soft drinks. From its signature product, Campari Bitter, its portfolio has extended to include over 50 brands, including Aperol, Appleton, Campari, Cinzano, SKYY Vodka and Wild Turkey.
SKYY
As early as 2002, gay marriage started to wind its way into ads. One of the very first brands to use this theme was SKYY Vodka (born in California in 1992), giving modern twist to an old-fashioned marriage proposal. At the bottom of the cocktail is an enormous diamond ring.
Though the visual still shows a glamorous male ideal of lesbians in high heels and bright red lipstick, these women are not interacting in the presence of men as many other such pairings do. This ad has appeared in pseudo mainstream art/fashion titles Interview and Paper as well as the gay OUT magazine.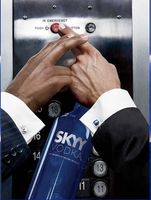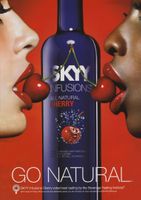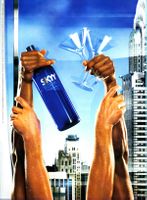 More recently, Skyy used an image of two men in an elevator, pushing the Stop button. A number of other lesbian and gay images have been used.
In 2011, a gay blogger took offense at the "Hypersexualization of Gay Men" in the SKYY Blue campaign. He found that it was "incredibly stereotypical and not beneficial for the homosexual male population". He blamed this on the fact that all the men are looking at each others' sex organs, insinuating that all gay men do is lay around and stare at each others' junk - obviously not a "productive portrayal". At the same time, the message that the drink is not vodka, but a low alcohol malt beverage, is lost – making it look like the guys are splurging on vodka 'straight' from the bottle. On the bright side he mentioned that the ad portrays relatively attractive men, a (probably) gay black man who is dark black (not often portrayed in other ads) as added diversity – and in general it portrays gay men, which most companies shy away from.
Campari
In 1999 main brand Campari created two LGBT ads with a twist.
In Red Passion a woman is seen leaving a bar by walking up the large, center staircase. A man at the bar catches her glance, but she soon turns and continues walking her way. The man immediately leaves the bar and begins to follow her. She always seems to be two steps ahead of him, until he finally turns a corner and literally runs into her. The man's drink spills all over the front of the woman's dress. The woman then removes the knot holding her halter dress up, displaying a bare chest that reveals she is really a man. He wipes the lipstick from his face. The man smirks and opens his shirt, exposing bandages around his chest, used to diminish the appearance of his breasts - because he is actually a woman. She lets down her long hair. An announcer says, "Campari. Red Passion" as the same words appear on screen.
In a similarly brooding one called Adulterous Scratches, a mysteriously androgynous woman makes a red carpet entrance into in lushly decorated Lempicka lobby full of smartly dressed patrons. She takes her seat and stares arrogantly at a man across the room while tapping her sharp fingernails against a glass of Campari. From the other side of the room, a blonde woman (presumably the man's girlfriend) notices the stare and marches over to the man, exposing scratch marks on his throat. She throws a drink in his face and marches over to confront the adulteress. But once they're face-to-face, she exposes her own set of scratch marks running down her back. Is the smug woman her lover, and has she cheated on the blonde with a man? Did the smug woman have a fling with the man and his blonde girlfriend, who is jealous of both of them? We will never know... Unfortunately, the association of bisexuals with confusion and sexual infidelity is one of the oldest and most persistent stereotypes facing the bisexual community. So for all its style and sexiness, the ad ultimately perpetuates a negative image of bisexual people as "equal-opportunity offenders".
Article last updated on October 7, 2020